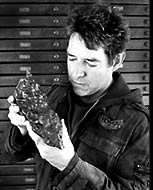 Geoff Notkin is an Emmy Award-winning television host and producer, author, columnist, artist, meteorite specialist, musician, publisher, and photographer. He was born in New York's East Village, grew up in London, England, and now makes his home in the deserts of the Southwestern United States. He studied geology, astronomy, literature, photography, and design in London, Boston and New York and is the founder and CEO of
Aerolite Meteorites Inc
—an international company that provides meteorite specimens to researchers, institutions, and collectors worldwide.
Geoff appears regularly on television and is best known as the host of Science Channel's award-winning series Meteorite Men and won two Emmys for his work on the educational series STEM Journals. He has also made shows for National Geographic, Disney, Discovery, PBS, the BBC, The History Channel, A&E, and The Travel Channel, appearing in such programs as Globe Trekker, Ancient Aliens, American Chopper, Shipping Wars, The Best Places to Find Cash & Treasures, How the Earth was Made, Wired Science, and Cosmic Collisions. He is also an award-winning film producer.

Geoff has written more than one hundred published articles on meteoritics, paleontology, adventure travel, history, and the arts, as well as the books Meteorite Hunting: How To Find Treasure From Space and Rock Star: Adventures of a Meteorite Man and My Incredibly Strange and Amazing Real-Life Adventures in the World of Comic Books. Geoff's work has also appeared in Astronomy, National Geographic, Smithsonian, Sky & Telescope, Astronomy Now, All About Space, USA Today, Wired, Reader's Digest, The Village Voice, Seed, Rock & Gem, Geotimes, Meteorite, Meteorite Hunting & Collecting Magazine, The Field Guide to Meteors and Meteorites, Meteoryt (Poland), Mushroom (Germany), TIMA (Japan), New York Press, The New York Sun, American Theater Arts, Mechanical Engineering, The Arizona Star, Tucson Weekly and many other national and international publications. He is also the author of Meteorwritings for Geology.com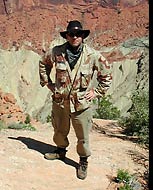 Geoff has worked with many of the world's top museums and research institutions including The Natural History Museum, London; The Center for Meteorite Studies at ASU, Tempe; The Institute of Meteoritics at UNM, Albuquerque; and the Oscar E. Monnig Meteorite Gallery at TCU, Fort Worth. He a long-time member of the celebrated Explorers Club.
Geoff has traveled to over fifty countries and some of the world's most remote locations in the course of his adventures, including Siberia, Chile's Atacama Desert, the Sahara, the Australian Outback, Iceland, and he has three times crossed the Arctic Circle.

The minor planet 139204—discovered by Dr. Robert Matson at Mount Palomar—was officially name "Notkin" by the Minor Planet Center in recognition of his contributions to science, education, and the arts.

PROFESSIONAL MEMBERSHIPS
Explorers Club
Association of Applied Paleontological Sciences
International Association of Astronomical Artists

IMPORTANT LINKS